The Muslim Ban: Laws and Policies Should Represent Us All
It starts on the campaign trail, then at the ballot box.
Our country's history reached a terrifying new low this week as President Trump and his administration live out their campaign promises to expel Latinx immigrants and ban Muslims from entering the U.S. With the heart wrenching images of children being separated from their families at the border still fresh in our minds, the Supreme Court today issued a 5-4 ruling to uphold the Muslim Ban.
The Supreme Court has faltered in decisions before: the Korematsu decision, which upheld the incarceration of thousands of Japanese-Americans, and the Dred Scott decision that ruled in favor of slavery, are just two examples. The Roberts Court today joins that sad legacy with its ruling  in Trump v. Hawaii. Today's decision is an affirmation of Trump's promise of a "total and complete shutdown of Muslims entering the United States," and opens the door for more government- and court-sanctioned discrimination of minority groups.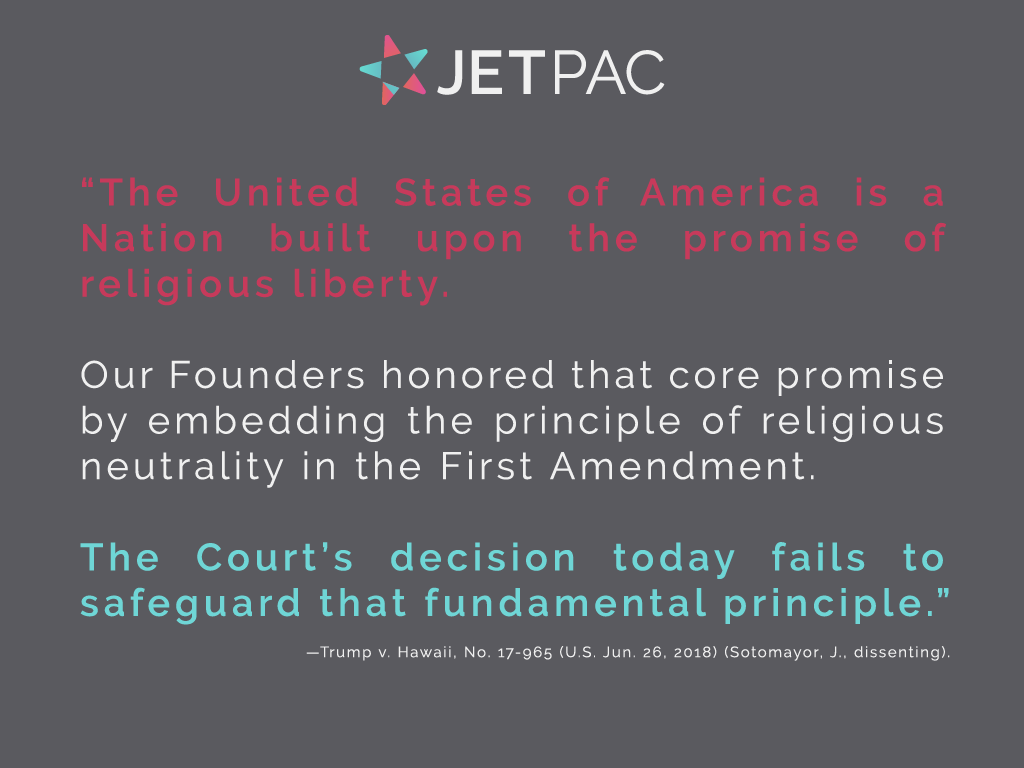 Today more than ever, we need lawmakers who reflect our diverse and pluralistic society. We need policies that allow minority communities to thrive—not policies that alienate, marginalize, and criminalize innocent children, immigrants, refugees, and the most vulnerable. It is only by actively elevating leaders of minority communities that we, as a country, will move towards equitable policy. America has that chance every time we go to the ballot, and Jetpac will continue to elevate minority leaders committed to equality and justice for all.
It is time that underrepresented Americans rise to serve at all levels of government. Jetpac is here to train American Muslims, Latinx, people of color, and other underrepresented groups to run for office and organize at the grassroots level.
To get involved, apply to Jetpac's Public Service Fellowship, or support Jetpac's work through your financial contribution.